Revues / Hire Us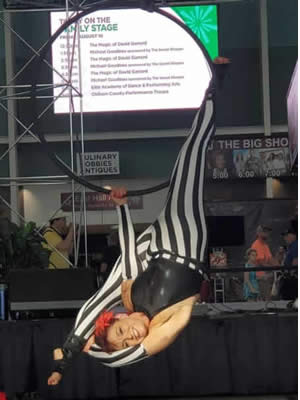 In addition to our annual circus show, Turners Circus also offers a number of revue performances throughout the year. These performances allow our students and artists to share original routines and choreography with the community.
Some revue acts are developed through our aerials classes, with students using these performances to further hone and develop the skills they've learned. Other acts are developed by students and artists looking to explore a particular idea or routine.
All Turners students and artists are eligible to audition for revues, and anyone and everyone is invited to see the amazing work of the Turners Circus community.
Event times and tickets:
Doors open at 7:30 pm, and show starts at 8:00 pm. Come early to enjoy a beverage in the River View Lounge. Feel free to come in costume to pose for photos with your favorite performer after the show.

Admission: $10 adults, $5 students. Tickets sold at the door.
BOOK US
As you may have guessed, we love to perform and bring our skills to the broader community. Turners Circus performers can help you to organize a range of different events, from birthdays to community outreach.
We offer a range of on- and off-site events:
Aerial and circus parties at Turners Park
Smile Parades and on-location circus parties
Corporate workshops and event performances
Performances for weddings, anniversaries, and other special occasions
Clown Care performances for residents of local, long-term care facilities.
Please contact…for more information.
TURNERS CLOWN CARE
Our innovative Clown Care program was developed in 2018 by Anita Yussman, Gretchen Wilkins, and Terri Apple. Clown Care is a volunteer program that offers ground arts performances in local nursing home and adult daycare facilities, so that those unable to attend our circus performance can still experience the joy of a live circus event.
Many of our Clown Care performers are Turners teens, who use this opportunity to bring their performance skills to the community. Our Clown Care audiences have raved about our performances, and our program's reach only continues to grow.
When they aren't performing, Clown Care participants also work to provide sack lunches for the homeless via Forgotten Louisville. For more information on Clown Care or to book a Clown Care performance, please contact us at ayussman@gmail.com.